Apr 6, 2020 12:00 PM Central
Renee Renz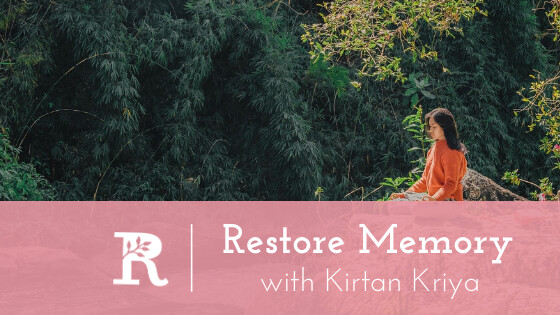 I love the synchronicity of life. I have been sharing with you about how Yoga has saved my life and delving deeper into my daily kundalini practice as I enjoy having a teacher in my life. I have always known that yoga is a science, but it is great to see that modern-day science is now recognizing and proving what the ancients always knew. I recently attended a monthly Wellness Series and the presentation by Karen Glick focused on how the Alzheimer's Research & Prevention Foundation is using the Kirtan Kriya for improving brain function and memory loss.
All great practices seem to be a blend of science and art. I find this in creating fermented foods, using essential oils, yoga practices and more. From the teachings of Yogi Bhajan referring to the Kirtan Kriya, he shares "Practicing this meditation is both a science and an art. It is an art in the way it molds consciousness and in the refinement of sensation and insight it produces. It is a science in the tested certainty of the results each technique produces."
Contemporary Research
Key take-aways from the study with Kirtan kriya as shared in the white paper for Yoga and Medical Meditation™ as Alzheimer's Prevention Medicine include:
Our yoga/meditation as Alzheimer's prevention medicine is so compelling because it has revealed that Kirtan Kriya (KK), a simple 12-minute yoga meditation meaning singing exercise, has the following benefits:
Reverses memory loss
Increases energy levels
Improves sleep quality
Up regulates positive genes
Down regulates inflammatory genes
Reduces stress in patient and caregiver
Improves psychological and spiritual well being
Activates significant anatomical areas of the brain
Increases telomerase, the rejuvenating enzyme that slows cell aging, by 43%, the largest increase ever recorded
No side effects, no cost
As well as results from brain imaging and much more.
The power of a 12-minute exercise seems too good not to incorporate into your daily practice.
I do like how they share that there are four pillars to Alzheimer's prevention with each aspect of the program having been shown to reduce the risk of cognitive decline.
1. Mediterranean-Type of plant-based diet
2. Stress management, especially through yoga and meditation
3. Physical and mental exercise and
4. Spiritual well-being.
The practice of Kirtan Kriya falls under the second pillar.
How To Begin Your Practice
Take a look at the basic steps for following this Kriya:
Alzheimer's Prevention – 12 Minute Memory Exercise
3HO – Kirtan Kriya (Sa Ta Na Ma Meditation)
Music and videos to guide you through this meditation can be helpful, and can be found on Youtube.
Try Nina Mongendre-Samonov's video to get started.
Insight from My Journey
Having lost my mother fifteen years ago to the effects of Alzheimer's disease, an ounce of prevention is truly worth a pound of cure. My journey to greater well-being through diet and lifestyle choices was truly propelled from the experience of being sandwiched with caring for my parents while raising my children. A pattern of mental and auto-immune disease was starting to form in our family. Simply exemplified on my mother's side with her and her brother having Alzheimer's, my grandmother psoriasis and grandfather OCD and an early death with heart issues. The understanding of Epigenetics and knowing that my actions and my choices of environment will affect the outcome of my gene expression is why I am so passionate about reclaiming health and becoming aware and active in daily choices and living fully embodied.
View my discussion of Kirtan Kriya practice on my YouTube channel, and follow the steps below to begin your practice.
5 Key Points
Posture
Ground yourself
5 primal sounds: Sa, Ta, Na, Ma carry vibration and acupressure
Focus/Concentration "L"
End with stretch and gratitude