Nov 26, 2023 04:21 PM Central
Renee Renz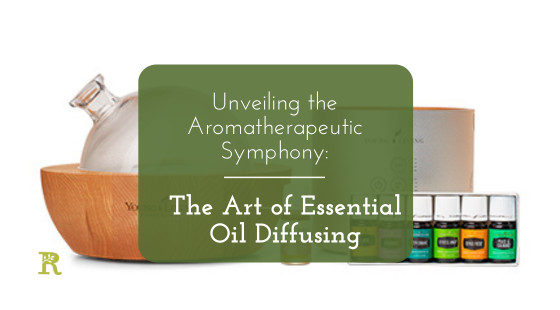 Discover the wonders of essential oil diffusing in our latest blog post. Essential oils are concentrated extracts from plants that offer a range of therapeutic benefits. Diffusing these oils allows their aromatic compounds to be inhaled, promoting physical and mental wellness. There are different types of diffusers available, from ultrasonic diffusers that disperse a fine mist of water and oils to nebulizing diffusers that directly release pure essential oil into the air. The benefits of diffusing go beyond pleasant scents, with potential advantages such as stress reduction, improved sleep, enhanced focus and concentration, respiratory support, and mood elevation. To make the most of diffusing, choose high-quality oils, personalize your blend, dilute mindfully, consider your environment, and maintain your diffuser regularly. Let the symphony of scents guide you on a journey of relaxation, focus, and rejuvenation.
Read more...
Since moving to Flagstaff, AZ, I have connected with people who follow the moon cycles, honor the Pagan rituals from which many religions started and simply connect more with the earth and nature. Nature has always held a special place in my soul. Growing this connection has truly fed my soul in countless ways.
Several years ago I followed the moon ritual from the Wild Women Project and the ritual at year's end really made an impact on me. When I worked through the above process and came to step three, I had such a creative download. I strongly felt the call to create prayer flags for sharing my dreams and visions in the new year. This would definitely get my messages, dreams and visions out to the world on the winds.
I do see prayer flags hanging from homes around my neighborhood and they abound at the Amitabha Stupa and Peace Park in Sedona where people not only hang purchased flags but also ones of their own creation – what a profound concept! Creating your own prayer flags.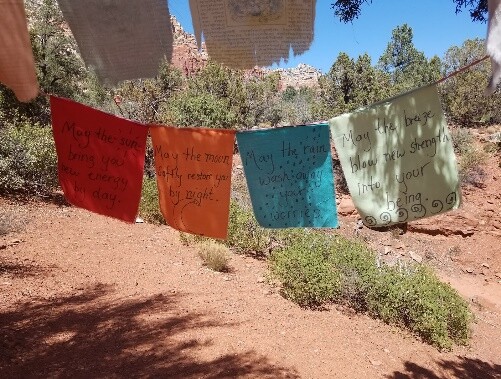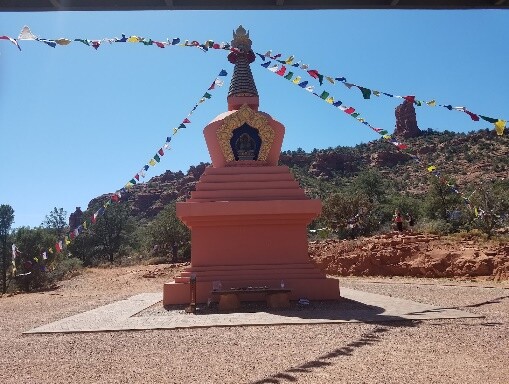 I started with a small pile of articles of clothing which were my favorites but had holes in unsightly places. I was unable to part with them, yet they were unwearable. I choose to use these clothes to make my prayer flags and repurpose something special to me into something else special. If I cut from some of the edges, there would already be a finished seam to string the rope through for hanging, bonus!
I came across information on prayer flags offering the colors and their meanings as well as the facts about when you remove prayer flags they are traditionally burned. Granted my clothing didn't meet the traditional colors fully, but somewhere I read that there are typically 10 flags, so I asked my family if they wanted to make a few flags too and we could hang all our visions together. With this in mind, my daughter brought a few articles of clothing to add some of the missing colors. I got out the permanent markers and we all created our visions and intentions for 2019.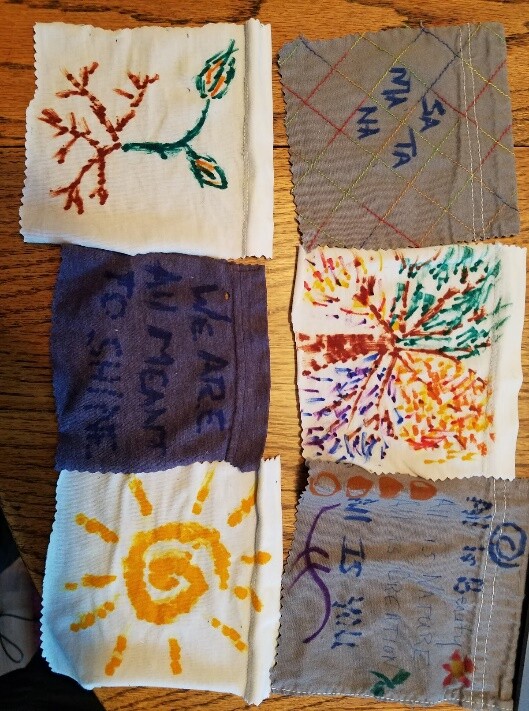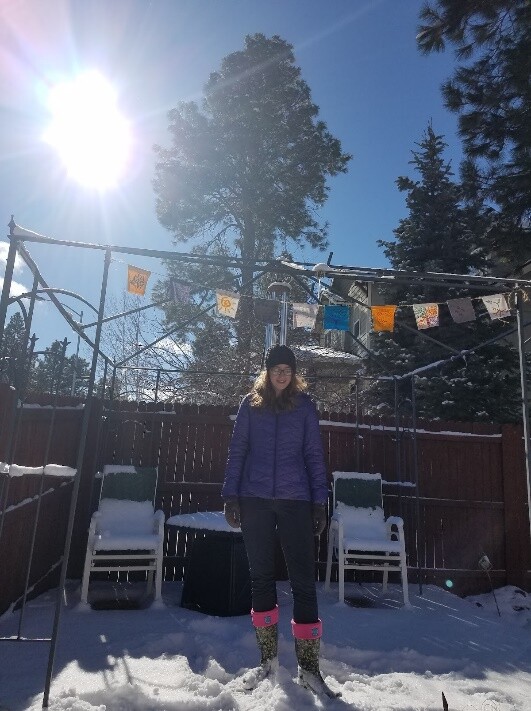 Our aim was to have them completed and to hang them on New Year's Day.
We had just created a family ritual! I shared this vision with a friend who jumped on board too, loving the idea.
She even added some good thoughts for the ritual, that we could remove the old flags on the winter solstice and ceremonially burn them and then use that time when we start to move into more light to create our new flags which will be hung on New Year's Day.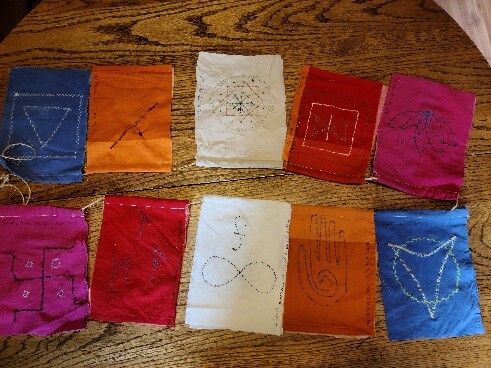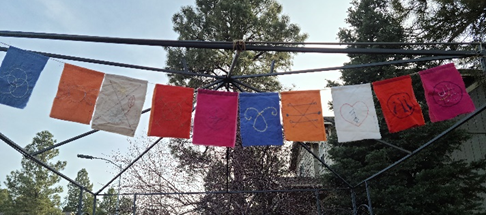 Over the years we have experimented with different media for words and images on flags. Media used include:
permanent markers
acrylic paints
stitching with colorful threads
regular markers – these fade away as the year passes fully releasing your prayer
The first year I shared the creation of ten flags with my family, now I have no problem filling all ten with my own intentions for the coming year. Another great lesson learned is to release perfection of your creation and focus on the energy you give to your intention. As these flags will be subjected the elements all year long and eventually burned, allow yourself to simply take action without judgement of the results while expressing your intention. Errors or mistakes are simply judgement – there is always something learned from the action. I truly felt this when stitching my images as the threads would get out of hand and I had to simply trust and let go.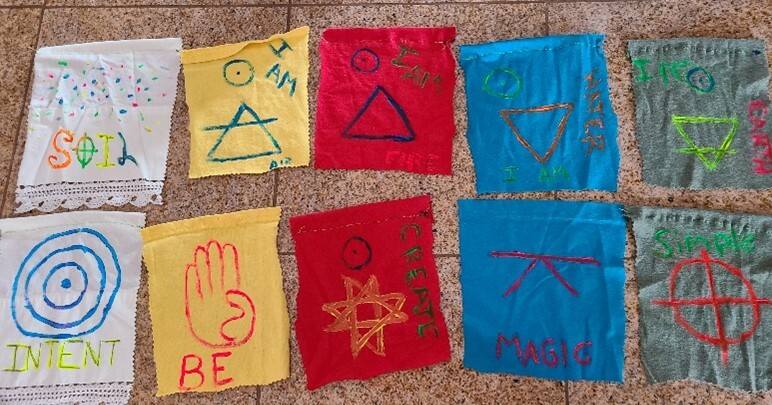 Our new prayer flag ritual —which I encourage you to try, adapting it to your own ideas—has manifested as follows:
Save old clothing or sheets to create flags, or purchase fabric scraps. You may honor a lost loved one by using items of theirs.
December 21st - Winter Solstice: Remove and burn past flags. Ceremonially review your past years intentions and how they unfolded (or not) and release them to the fire.
Feel into your intents or wishes for the New Year and craft your new flags.
January 1st:New Year's Day or the first New moon of the year: Hang your new flags and spread your message all year long on the winds.
The winter solstice is just around the corner. If you don't have flags for this current year you may always write your intents on paper and release them in a ceremony during the solstice and create the space to feel envision your intentions for the coming year.
Here I will share my poem for 2019, which came out of this process:
Honor the whole, the broken and create anew
All is Beauty
All is Nature
All is Creation
All is You
As the new year approach us, I encourage you to develop your own personal rituals for intention-setting.
Subscribe if you would like to hear more about my family's rituals!